IN GOD WE TRUST
My father watched as his friends died in WW II, and I watched as my friends died in Vietnam.

None of them died for the Mexican Flag.

Everyone died for the U.S. flag.

In Texas , a student raised a Mexican flag on a school flag pole; another student took it down. Guess who was expelled...the kid who took it down.

Kids in high school in California were sent home this year on Cinco de Mayo because they wore T-shirts with the American flag printed on them.

Enough is enough.

The below e-mail message needs to be viewed by every American; and every American needs to stand up for America .

We've bent over to appease the America-haters long enough.

I'm taking a stand.

I'm standing up because the hundreds of thousands who died fighting in wars for this country, and for the U.S. flag can't stand up.

And shame on anyone who tries to make this a racist message.


Let me make this perfectly clear!


THIS IS MY COUNTRY!

And, because I make This statement


DOES NOT



Mean I'm against immigration!!!

YOU ARE WELCOME HERE, IN MY COUNTRY!

Welcome! To come through legally:


1. Get a sponsor!


2. Get a place to lay your head!


3. Get a job!


4. Live by OUR Rules



5. Pay YOUR Taxes


And


6. Learn the LANGUAGE like immigrants


have in the past!!!


AND


7. Please don't demand that we hand over our lifetime

savings of Social Security Funds to you.



If you don't want to copy and pass this on for fear of offending someone,


Then YOU'RE PART OF THE PROBLEM!


When Will AMERICANS STOP Giving Away THEIR RIGHTS!



We've gone so far the other way...


bent over backwards not to offend anyone.


But it seems no one cares about the


AMERICAN CITIZEN


that's being offended!



WAKE UP America !!!

In Countries Where
The FEAR of GOD
Has Become a Jest,

The Rights of Men
Have Become a JOKE!


AMERICAN FAMILY ASSOCIATION is one of the largest and most effective pro-family organizations in the country with over two million online supporters. Since 1977, AFA has been on the frontlines of America's Culture War.

SECURITY NEWS DAILY










THIS IS ONE SERMON
THAT REALLY NEEDS TO BE WATCHED!

TAKE THE TIME, BECAUSE YOU WILL NEED TO KNOW!

The Coming Final Persecution
Mark 13:9-13






THIS SONG BY KUTLESS IS JUST AWESOME!

AND SO VERY TRUE!

JUST LISTEN TO IT & MAY GOD BLESS YOU IN ALL YOU DO!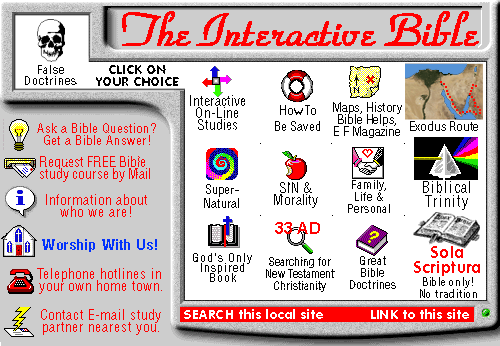 The Interactive Bible
YEA RIGHT! LIKE ALL THIS IS SUPPOSE TO BE A BIG SECRETU.S. Debt Clock Keeps Ticking • The Purpose of U.S. Debt Clock is to Inform The Public of The Financial Condition of the United States of America. The numbers are laid Out so as To Give a Complete Real-Time Snap-Shot of Our Country's Balance Sheet. The Debt Clock Uses Government Data, Updated Continuously, and The Values Displayed are Verified from "The Best Sources Available." See why we DON'T! Need More "BAIL-OUTS",,, WE JUST NEED! MORE JOBS!
DEBT CLOCK

JUST WATCH THIS VIDEO

TO APPRECIATE WHERE ON THE PRECIPICE

WE STAND IN END-TIME PROPHECY
*
THIS IS SOMETHING MORE TO CONSIDER
*


Persecution or a Great Awakening" - Paul Washer

,



"Religion That Sends You To Hell!" by Paul Washer

Wrath of God - Paul Washer

Joel Osteen, it's just the Truth - Paul Washer

The Current Economic Situation by David Wilkerson

Hell-Shaking Prayer by David Wilkerson